PPI is a valuable resource to the print industry in the NW and beyond. The many groups benefits outweigh the membership fees. Print Rocks lets the many see just what the other printers produced during the past year. Best wishes for Jules in her next adventure!
Chris Smith
AdPro Litho
Mukilteo, WA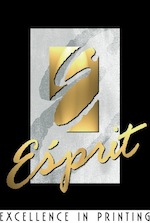 With the economic uncertainty in this country, the printing industry's rapidly changing landscape, and the ever increasing challenge to remain relevant by delivering more value to clients before the competition can, successful printing companies are required to constantly keep up with technological, operational, and managerial advances.

Esprit realizes no one individual could possibly begin to research all these advances, much less apply strategic, proprietary implementation without help. Our membership in PPI provides us access to an invaluable resource to help us navigate through our industry's rapidly changing landscape and reshape our company with new opportunities to successfully advance our business.
Skip Novakovich, LTC, USA, (Ret)
Esprit Graphic Communications, Inc.
Kennewick, WA

Lasko Printing, Inc. has been a PPI member for 27 years and I believe it's been worth every penny. They have assisted us with HR issues & questions, provided vendor resources, and organized valuable industry networking events. Being a part of PPI has enabled us to prosper in an always changing market. Jules and crew can always be counted on!
Derek Lasko
Lasko Printing Inc.
Portland, OR








I have been a part of various trade groups through the years, many of which no longer exist, but PPI has been a stalwart and continues to provide value to me personally and professionally. While it has become increasingly difficult for trade organizations to bring value, due to the pace of business and the information available on the internet, our local PPI chapter has done an amazing job providing topics of interest in a setting that is also beneficial for networking and maintaining existing personal and professional relationships.

While paper and print is changing, it is not dead, and we absolutely need to invest in our future. Our local PPI office has done an incredible job of planting seeds for the future in our industry. I have been fortunate to be a part of many of these programs educating our youth on our industry and the opportunities that will be available in the future. I cannot imagine how this message would be delivered effectively without Jules and our regional PPI Association.

Ed Allen
WCP Solutions
Portland, OR